Javascript must be enabled to continue!
Type AS PRESS
Description:
Adaptation of the AS profile with a shorter, reinforced lip for applications with pressure.
Standard materials:
Lip, membrane and casing: NBR and FKM.
Spring: steel for springs DIN 17223 (AISI302 for FKM seals).
Frame: cold laminated steel DIN 1624.
Application:
Suitable for applications with pressure, such as hydraulic motors and pumps. It can even work up to 10 bar in optimal conditions, on the basis of working velocity and shaft diameter. In the following graph you can see the relationship between working conditions and shaft for the application.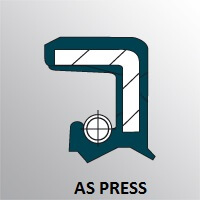 TRMS - Rotary Mechanical Seals
Egaleo 14, Piraeus, 18545
T: 210-4080022
F: 210-4080023
E:
info@trms.gr